THe ENCHANTED KINGDOM
🌽CORNYTOPIA👑
🌽Embark on an unforgettable journey through the corniest kingdom you've ever seen!
Cornytopia is not your average children's series. It's an enchanted world where children of all ages will learn about morals, values, critical thinking, problem-solving, personal development, spirituality, and emotional intelligence management – all while being entertained by lovable characters and exciting adventures.  📚🌽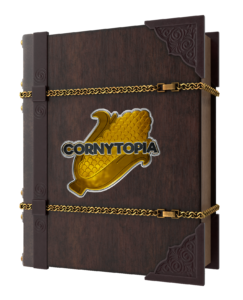 And who doesn't want their child to be kind, compassionate, and well-rounded?🤭 
🌾Join our Discorn 🌽
🌽 Buy the Book! 📚
CORNYTOPIA's Mission & Vision
At Cornytopia, our mission is to empower and engage children of all ages through wholesome, snarky comedy that not only entertains but also educates. We aim to create an environment where learning and laughter go hand in hand, teaching essential life skills such as morals, discipline, problem-solving, and critical thinking. By combining these core values with a fun, safe, and inclusive approach, we seek to inspire a new generation of bright, confident, and compassionate individuals who are ready to make the world a better place.
The Heart of Corn🌽💛
Dive into the heart of Cornucopia, where puns, corny characters, and life lessons create a truly a-maize-ing experience!.
Media today just doesn't have the same character that media had in the 1970s with Sesame Street, Mister Roger's Neighborhood, and Sweet Pickles books.  We aim to get the heart of the matter, inspire creative imaginations, and make snarktastic and corny jokes.
Unleash the CORNY!
Are you ready to begin your Cornytopia journey? 🌟 Join us today and immerse yourself in a universe where laughter 😆, learning 📚, and the magic of storytelling 🎇 unite, creating a realm that's truly a one-of-a-kind corny adventure! 🎉
🌽 Welcome to Cornytopia 🌽 – your one-stop destination for endless fun, adventure, and learning! 🥳
Get ready to dive into our enchanting world 🌍 and unleash your imagination 💭 as you explore the serialized chapters of our captivating book series 📚. With each chapter, you'll unravel new mysteries 🕵️, witness epic battles ⚔️, and experience the joys and sorrows of the Cornytopia Kingdom 🏰, all while being swept away by the power of storytelling 📖.
The adventure doesn't stop there – imagine your favorite Cornytopia characters coming to life in a potential cartoon series 📺, filled with laughter 😂, action 🎬, and important life lessons 🎓. Follow their journey as they overcome obstacles and triumph against all odds, teaching valuable morals and critical thinking skills along the way 🌟.
But that's not all – Cornytopia offers a unique and engaging experience with our exclusive NFT collection 🎨. Claim your very own Corn Wizard or Mystic Corn Maiden 🧚, complete with personalized names and traits. Your NFT is not just a digital collectible 🖼️; it's a gateway to a world of wonder 🌈, exploration 🔍, and camaraderie 👯 within our vibrant community.
So, are you ready to begin your Cornytopia journey? 🌟 Join us today and immerse yourself in a universe where laughter 😆, learning 📚, and the magic of storytelling 🎇 unite, creating a realm that's truly one-of-a-kind! 🎉